Using tomorrow's technology today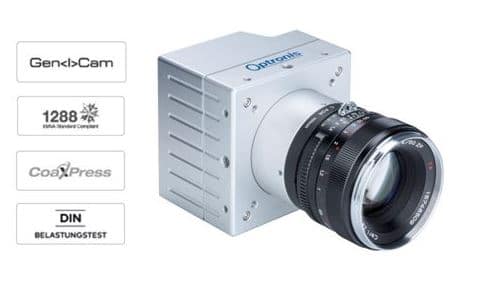 Standardisation is not always easy to implement, particularly in highly innovative sectors such as image processing; what gives customers greater security and comparability is often a huge challenge for the technology and sometimes an apparent competitive disadvantage in terms of marketing. This is where Optronis nails its colours firmly to the mast: in the CamPerform series, the manufacturer of innovative high-speed cameras offers what is probably the most standardised series for machine vision and 2D/3D AOI. That enables Optronis to give users cost-efficient access to technologies of the future – right now.
With the CamPerform series Optronis is serving a high-tech niche sector: machine vision, 2D/3D AOI or camera components for laser triangulation. Maximum frame rates and resolutions, and especially high-speed data transfers, place enormous demands on the technologies and come at a correspondingly high price. In the CamPerform series, Optronis offers high-speed cameras that utilise the latest technology yet remain affordable. In the development process the manufacturer followed the relevant standards, from EMVA 1288, CoaXPress DIN 1.0/2.3 and GenICamTM right through to DIN EN 60721-3-2 shock and vibration testing.
"For customers, standards are of course a particularly important indicator of the quality and comparability of the products. In a high-tech industry such as ours, which is a particularly innovation-driven market, it is not always easy to integrate standards into development processes – and of course it comes at a correspondingly high price", said Dr. Bernd Reinke, Product Manager at Optronis GmbH. In the strategic alignment of its products, Optronis took the decision more than three years ago to utilise standardisation in order to make the technology attractive in terms of price as well. "Naturally we have invested a great deal in development over the last three years", Bernd Reinke adds. "But that makes the products the only ones of their kind for customers."
Optronis cameras have a modular structure, allowing individual components to be used multiple times, thereby cutting production costs. The fact that the efficiency of individual components is not exhausted to the maximum means that the system price can be lowered to an acceptable level. "For us, the priority is to enable pragmatic use, and with that of course the actual functionality that is required and the cost/benefit ratio," said Bernd Reinke. "The advantage is that Optronis cameras give customers tomorrow's technology today, and at an acceptable price level as well. That's due, firstly, to a high level of standardisation. Secondly and in particular, though, customers have the added advantage that they don't need to change technology if they need more power at a later date."
The CamPerform range will be on display at the Optronis stand 1F14 in Hall 1 at this year's VISION in Stuttgart on 8-10 November.
---