CycloneFiber camera series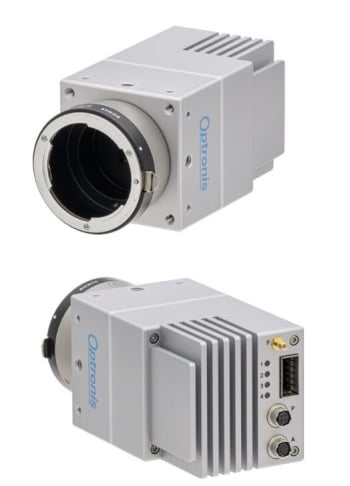 CamPerform-CycloneFiber camera series with fiber optical transmission
Optronis complements its product portfolio with new cameras of the CycloneFiber series. The new camera models feature a very powerful optical interface based on the CoaXPress-over-Fiber standard, with data rates of 40 Gbps. CoaXPress-over-Fiber uses standard electronics, cables and interfaces also used for fast Ethernet connections. The CoaXPress 2.0 protocol is implemented.
Compared to the copper-based CoaXPress interface, there are some significant advantages:
Cable lengths are practically no longer limited. Lengths of 10 km and more can be realized without any problems.
Fiber optics are ideally suited for areas with strong electro-magnetic interference such as those found in manufacturing environments, power plants and some medical applications.
The weight of optical fiber compared to copper cable is significantly lower which is especially important in aerospace applications.
The concept of the Optronis CyclconeFiber camera allows to use different QSFP+ modules. Possible are QSFP-40G-SR4 modules (multimode fibers for up to 150 m cable length) or QSFP-40G-ER4 modules (singlemode fiber for up to 40 km cable length).
The CycloneFiber cameras are available with a variety of different image sensors. Starting from 1 Mpixel resolution with 3,500 fps up to 65 MPixel with 70 fps.
---