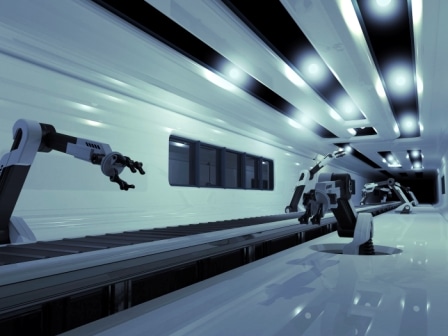 The image processing market, and all associated technologies, continue to be on an upward trajectory. Annual growth of 10-15% worldwide in the machine vision segment alone demonstrates more than just extensive interest. Robust, well-performing technologies, but above all the massive speed of innovation and development, are factors which continue to drive the market.
Sophisticated image processing technologies offer the user a high degree of certainty, boosting confidence in the technologies on offer. Image processing components and systems enjoy high acceptance in industrial environments, and there are repeatedly new areas of application capable of being developed via "conventional" image processing. The measurement algorithms work robustly and are delivering reliable measurement results. All this leads to consistent, if not growing, demand in a further-expanding market.
Drawing on extensive experience of evaluation algorithms, many processes can also work "embedded", i.e. with evaluation processors closely integrated with the camera systems. This saves on costs, and increases the reliability of image-recording measuring devices in the field.
Conventional image processing is faced by new technologies which offer a certain "WOW" factor. These are technologies capable of increasing the image data rate (= image detail x image rate) by up to two orders of scale (increased by between 10 and 100 times). This technology is being driven by new CMOS image sensors, which enable vastly higher image data rates compared with conventional CCD technology. The sensors also offer high image qualities, needed in machine vision in 2D or 3D AOI.
To master this performance category, however, new technologies associated with the CMOS sensor system are required. These are the CoaXPress image data interface, the image capture card (FrameGrabber), the consistent standard for camera parametrization (GenICam), and the processors (FPGAs, GPUs) in the connected processor environment. It is not just users, but also system integrators who are faced with new challenges in this regard. The system integrator alone must contribute in-depth know-how in connecting fast system components in addition to the algorithm side. Standards which users and integrators alike can rely on offer support in these new technologies. Observations on the quality of CMOS-based cameras come from EMVA1288 measurements, which Optronis carries out on all machine vision cameras complying with this new performance category. GenICam interfaces continue to offer familiar orientation. The further the technology develops, the more important comparability and ease of use become for application and integration. Today's Optronis cameras already offer the highest level of standardization in the machine vision environment.
---